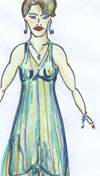 Latest Designs
Kelvin Landolt has been designing wearable fashion & custom costumes for over 20 years; couture evening wear, swim wear, 'wacky' threatrical pieces, corsetry, jewelry, hats & Las Vegas styled headdresses. He finds inspiration in pattern, shoes, dreams, magazines and late night films, but more often becomes inspired by the excitement of clients who dream of acquiring a certain garment or look. Kelvin studied at Parson's School of Design in New York City; pattern making & fashion design.
Enjoy the galleries within offering photographs of finsihed projects along with water colour concept paintings & sketches. Check out the Latest Designs which shows project underway.
Please e-mail Kelvin Landolt, at VBlake Designs, if you have any questions or would like to contract him for his costuming services.